New website and logo for BRNDWRKS.
The logo was designed by Chantal Keizer and the website was designed en created in cooperation with Online Tom.  BRNDWRKS offers several very cool kids brands.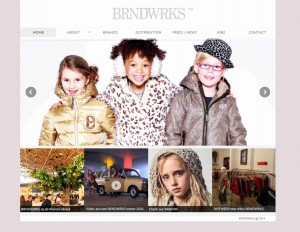 James Who?  (designed en photographed by CHANTAL KEIZER)
Grafische zebraprints, Mexicaans geïnspireerde skulls, Delfts Blauw op z'n Frans en tie-die hippy op z'n best. Welkom in wonderlijke wereld van James Who?.
Prints at it's best
 Accessoirelabel James Who? maakt dromen van shawls met stuk voor stuk een unieke print. Wat op het eerste gezicht een variatie van verschillende Delftsblauwe tegeltjes lijkt is in werkelijkheid een collectie van Franse spreuken en tekens, een duistere achtergrond wordt opgeleukt met een print van een vrolijke viervoeter met strik en tropische bloem in het haar en die zwart-witte shawl bestaat uit wel heel erg spannende fotootjes.
Color coordinated                                                                                                                                                                   
Van zeegroen overlopend in fris blauw, tot mystiek paars in combinatie met diep turqoise, tot collages van verschillende foto's in flashy kleuren. Alle twaalf varianten uitgevoerd in shawls van flink formaat met een touch of cashmere voor een weelderig zachte finish.